There are plenty of other activities on the Beara Peninsula…
Golf
Ireland is a haven for women who love Golf. Within an hours drive you can have a choice of three different first class golfing facilities.
There is a great little 9-hole golf course just before you come into Castletown Berehaven on the R572. www.berehavengolf.com It is situated on the stunning Beara Peninsula with 3 holes played across the water and spectacular views of Bere Island. Women who have stayed at Bellatrix and played there have reported that it's a challenging course but very enjoyable.
Horseriding
There is a riding stables close to Bellatrix called Lios Lara Riding Stables.
027 70832
or
086 172 1279
Give them a buzz to book a trek, it's a wonderful way to spend an afternoon.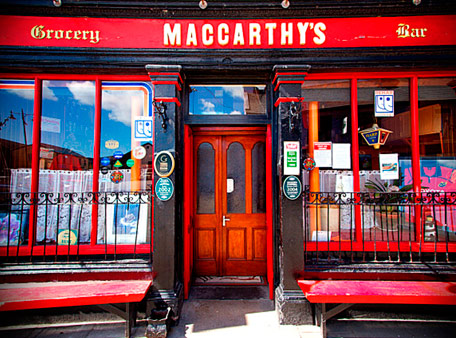 Music
There are all the usual pubs and music sessions you would expect to find in any small town in Ireland. A must visit is MacCarthy's Bar in the square in Castletownbere,
www.maccarthysbar.com
Adrienne the proprietor will give you a great welcome. There is live music there most evenings in the Summer.
The Sarah Walker gallery, at the far west end of the pier, Castletown Berehaven, doubles up as a music venue in the evenings, it's called "The High Tide Club", you will get all the current information on upcoming concerts on their face book page. Georgina Goulding who runs the venue has a talent for bringing great musicians to the club. We have had many a great evening at the venue with the women from all over the world who stay at Bellatrix.
O'Neills in Allihies is another spot for music. Sunday at 6pm is when there is a session with local musicians. Every summer in June, Allihies hosts the Michael Dwyer festival, a Traditional Irish Music Festival. Musicians travel from far and wide to join this event. You can check out their website for more detailed information, www.michaeldwyer.ie
Art on The Beara Peninsula.

The Beara peninsula has been attracting artists as a place to live for decades now. The Mill Cove Gallery
www.millcovegallery.com
is on the R572 just before you arrive in Castletown Berehaven. It is a magnificent gallery run by John Goode and artist John Brennan. The gallery on The Beara Peninsula includes 4 acres of Sculpture Gardens, John Brennan's Studio and 4 large exhibition rooms. The Mill Cove gallery are the Irish Ceramic Specialists and the quality of the work exhibited there is second to none.
The Sarah Walker Gallery, www.sarahwalkergallery.com is situated on the waterfront at the far west end of the pier at Castletownbere, Co Cork. It is a contemporary art gallery and is housed in the old stone carriage house located at the end of the harbour at Castletownbere. Sarah, who studied Fine Art, has her own work on view there along with paintings, ceramics, photography and drawings by other local and Irish artists. Sarah's own work is an inspiration!
Adrigole Arts, the award-winning craft shop and art gallery is situated on the dramatic Wild Atlantic Way in the village of Adrigole. Adrigole is mid-way between Glengarriff and Castletown Berehaven and exhibits jewellery, original Irish knitwear, pottery, glass, leather and hand-turned woods.